Top 8 Things to Check Before Picking Your Courier Company
March 10, 2023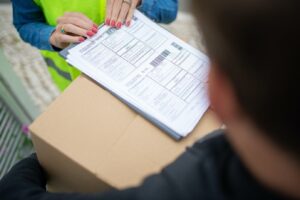 Choosing the right courier company to deliver your parcels on time, without delay, is like a hit and miss. There are numerous courier service companies popping up in today's era, and you hardly ever see the team working behind the doors. This pops the question, 'what should you consider while choosing your courier company?'
In this blog post, we will share the top 8 things to check before picking your courier company.
1.      Security
If you are considering choosing a small, local company, make sure that they have the license and insurance for delivering goods before shortlisting them. Plus, make sure you check if the drivers and vans are easily identifiable.
2.      Delivery Speed
For a courier service, delivery speed is very crucial. There will always be a time when you have a rush order and require express delivery (even though not always). So, before you finalize, check out the company's website and the offers available like same-day delivery, next-day delivery, overnight, etc.
3.      Reliability
Every time a courier company takes an order and makes a promise to deliver on time, the company's reputation is at risk. A good courier company will always deliver on its promise and won't let you down. You can check customer reviews and testimonials to see complaints or other issues past customers might have faced.
4.      Professionalism
The appearance of the delivery persona and their vehicle will be a reflection of how professional the business is. Make sure you pick a courier service that has a clean, up-to-date van and a tidy driver rather than a sloppy one.
5.      Special Requirements
Before availing of the services, check if the company handles perishable or hazardous items. Also, check if they offer help with loading, unloading, and packing large items. Even if you don't require this information at the moment, make sure you are well aware.
6.      Complaint Management
You need to understand their complaint management process by checking how they handle and manage complaints regarding missing, defective, incorrect, or broken deliveries. Discuss these issues with the courier company before shortlisting them.
7.      Ease of Business
Find out the various options available for placing orders or delivering goods via the courier company. Is there a way to track your parcel online? Is there a way to make payment online? You want to work with a company that provides ease of doing business in a seamless way.
8.      Hidden Charges
Watch out for hidden charges! Make sure that the price the company quotes is the final price without any extra charges. You should find out exactly what you have to pay for before availing of the service. By keeping the above tips in mind, you will be able to choose a better courier service that provides prompt delivery and ease of doing business. For more details or inquiries regarding our courier service and shipping solutions, please contact us.