PALLETS
Safe Pack manufactures customised timber pallets used to stack, store, protect, and transport boxes and crates of goods and materials. Our standard and custom wooden pallets in Melbourne are strong enough to withstand material handling equipment such as forklifts, pallet jacks, and conveyors, and being stored in racking, bulk storage, or being positioned in transport vehicles. 
Our pallets come in a number of sizes, and we can adapt their design according to the size and weight of your product. We're among the most trusted pallet suppliers in Melbourne, as we make our timber packaging products from ISPM-15-certified wood. We're also led by two industry leaders with around 30 years of combined experience in timber packaging. 
No quantity is too small here at Safe Pack. We are focused on keeping your product moving. 
SOLID AND SAFE TIMBER PALLETS FOR MELBOURNE BUSINESSES
Timber pallets have been a staple of modern logistics for decades. Every day, billions of pallets are on the move across the globe at any given time, providing a more efficient way to move crates and other forms of cargo in bulk. In Australia alone, there are an estimated 140 million pallets in use. 
Wooden pallets are the cargo transport of choice for many businesses: cheap to produce, strong for its price, and can be easily repaired. However, being organic materials, wooden pallets produced with low-quality materials will not only break under the sheer weight of the cargo but also harbour bugs and other pests that can spread to other places through local and international trade. 
Safe Pack understands the need for sturdy and pest-free export timber pallets. That's why we produce high-quality pallets using ISPM-15-certified timber. Sanctioned by the United Nations' International Plant Protection Convention, this global standard sets the ideal template for treating timber wood that'll be turned into timber pallets. 
BENEFITS OF QUALITY TIMBER PALLETS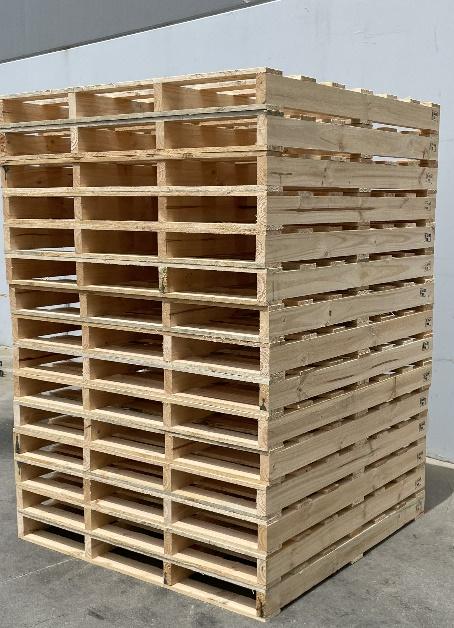 Affordability 
As a business owner, you'd want to maximise your returns in every aspect of business – logistics being no exception. Wooden pallets are cheap enough to help keep your transportation costs to a minimum, and Safe Pack offers competitive prices for our range of high-quality pallets. 
Durability 
Timber pallets can be made out of either softwood or hardwood. But here at Safe Pack, we use heat-treated hardwood due to its resilience. Hardwood is dense enough to withstand the weight of cargo, and heat treatment multiplies its durability several-fold. 
Ease of Repair 
A broken or damaged section of a wooden pallet can be swapped out for a fresh piece of wood instead of replacing the whole pallet, leading to cost savings. This is impossible for pallets manufactured as a whole, such as plastic pallets, in which substantial damage will require the entire pallet to be replaced. 
Resistance to Pests 
With heat-treated quality pallets, business owners can avoid penalties for inadvertently introducing invasive species in a specific location. In fact, ISPM-15 certification requires timber to undergo heat treatment to prevent pests from nesting in the export pallets. 
Huge Holding Capacity 
Because of hardwood's density, timber pallets Melbourne businesses utilise can hold more boxes and crates per batch than plastic pallets. They can carry a wide range of goods and materials, from crates of goods and items to crated, full-size machines. 
TIMBER PALLETS IN MELBOURNE FOR VARIOUS INDUSTRIES
High-quality, heat-treated pallets are the foundation of a consumer-driven economy. No matter what you sell or who you're selling to, you can count on reliable pallet suppliers like Safe Pack to contribute to your business's success. 
Our cost-effective wooden pallets Melbourne business owners have come to love see plenty of use in various industries, some of which include: 
Food and Beverage
Pallets can handle fragile beverage bottles and packs and cans of foodstuffs with care. Our hardwood pallets Melbourne enterprises rely on can also protect them from contamination by pests. 
Industrial Machinery
Custom-made pallets are perfect for supporting huge industrial machines. For added protection, we recommend enclosing them in our equally robust timber crates. 
Package/Parcel Delivery
Get your boxes of goods to customers on time and in one piece with stable custom or standard pallets, especially fragile items like electronics. 
Home and Office Moving
Timber pallets are widely used in moving appliances, furniture, and other bulky home goods from one house or office to another. No one wants anything to break during the move. 
Fast-Moving Consumer Goods
Move huge volumes of low-cost goods like cleaning products, cosmetics, and office supplies with custom or standard pallets. More batches of boxes and crates transported means more customers' orders fulfiled. 
Storage and Warehousing
Custom and standard pallets are also great for storing boxes and crates of goods in warehouses and other storage facilities, allowing for fast delivery within a certain area. 
Export Manufacturing
Export pallets are designed for shipping domestically produced goods to overseas customers. We can design pallets to comply with a location's export guidelines and quality standards. 
With proper use and care, Safe Pack's wooden pallets can contribute to minimising shipping costs and maximising revenue. More batches of goods transported means less time your customers will have to wait for their order to arrive, leaving a better impression of your business. 
CUSTOM-MADE QUALITY PALLETS IN MELBOURNE
Not all businesses need standard pallets (1165 x 1165 mm), even if they're the most widely used pallet size in Australia. As a pallet manufacturer that always strives to meet international shipping standards, Safe Pack can create custom pallets tailored to your logistical needs. 
Do you need export timber pallets to comply with an overseas location's guidelines? Are you looking for export pallets in Melbourne with a broader base or larger holding capacity? No matter how small or big, or light or heavy your goods are, Safe Pack's custom-made pallet sizes can accommodate various logistical needs. 
Our reliable service team stands by to discuss with you the best specifications for your wooden pallets in Melbourne. Give them a call at (03)9794-7656. 
**Allow a lead time of five to seven full business days to complete and deliver your pallet order.
 
TRUSTED PALLET SUPPLIERS IN MELBOURNE
Worrying about transporting more goods in fewer trips doesn't have to be hard. All it takes is calling a supplier of quality wooden pallets Melbourne enterprises trust. Buy pallets from Safe Pack today! 
To get started on your custom pallet needs, contact our exceptional service team at (03)9794-7656.