ON SITE PACKAGING
Whether shipping perishable or nonperishable goods, businesses need to ensure secure and efficient transportation. Proper packaging reduces the risks of damage and deterioration while preventing the loss of revenue and customer trust.
For fragile, bulky, high-quantity, and special items, efficient onsite packaging solutions are the answer. By partnering with a reliable packing supplies and services provider like Safe Pack, you can strengthen your presence in both local and overseas markets.
At Safe Pack, our expert team can guarantee your goods and merchandise's quality, integrity, and freshness before being shipped. We keep your valued items safe and secure regardless of the destination. Above all else, we're always ready to provide excellent onsite packing services and supplies that align with your business needs.
Take your packaging game to new heights today and let Safe Pack be your partner in success. Contact our expert sales team to arrange a free measure and quote at 1300 689 768.
Heat, Shrink and Plastic Wrapping
Shrink wrapping and other methods of wrapping plastic offer different levels of protection for various items. This packing method is typically done before placing items inside a wooden crate or case.
While mainly popular for protecting food and beverages, plastic wrapping is also useful for other delicate items. Our team can help determine the best packing method for optimal results, ensuring the utmost care for our customers' valuable products.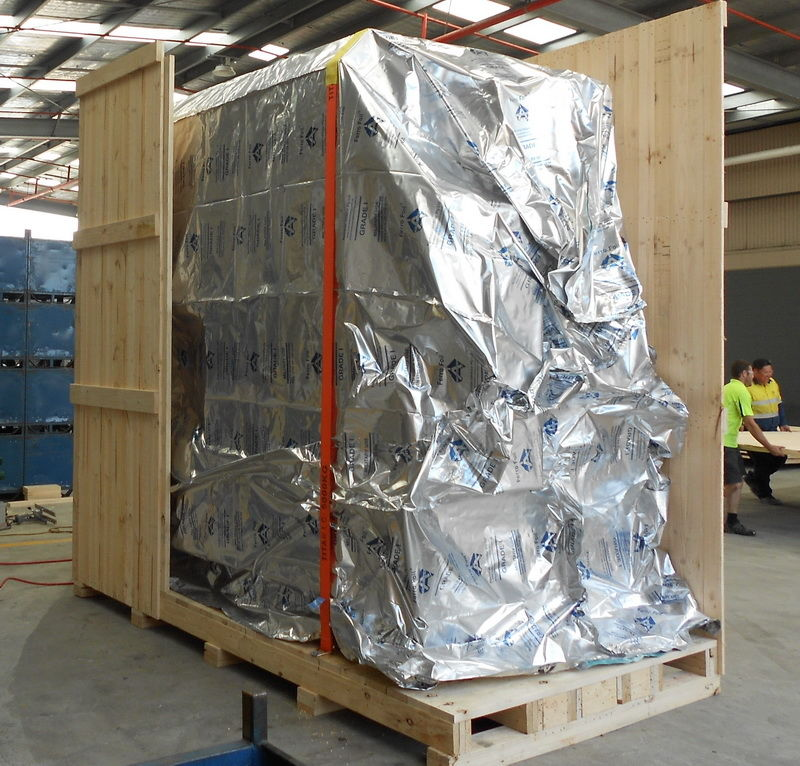 Standard and Customized Wood Packaging Services
Safe Pack provides a wide range of onsite packing solutions to secure fragile items like fine china and bulky and costly items – whether they're pool tables, bed frames, furniture or heavy machinery and equipment. In such instances, wooden boxes, pallets or crates may be required, and we're happy to help.
If you're looking for affordable and durable options, we design and manufacture timber bases and crates, pallets or wooden cases to ensure your shipments arrive safely at their destination.
Once these wooden shipping materials are ready, we can help pack your items securely inside your warehouse or load them to your preferred location.
Efficient Container Loading
Efficient container loading is key to keeping goods and your revenues intact. As one of the most crucial logistical procedures, proper cargo handling isn't as simple as getting your goods inside transportation vehicles and filling them up.
Specific rules apply for proper cargo loading and unloading, and they may differ from location to location.
You can rely on Safe Pack's onsite packing services to strictly comply with local and international standards for preparing, loading, and packing fragile items for transport, whether by sea, land, or air.
Combination Packaging
Special, delicate, and especially hazardous items may need a different approach. Our team offers combination packaging, which comprises different components for optimal protection. This packing service requires the creation of inner, intermediate, and outer packaging to exercise the highest levels of protection.
Our combination packaging services include manufacturing cardboard and timber pallets with handles and multiple opening options.     
Labelling and Stencilling for Proper Cargo Handling
Package labelling and stencilling ensure the shipping process is organized, helping prevent damages and lost cargo. Package stencils, for instance, provide essential handling information in crates and other packing and unpacking instructions.
We can help ensure a safer, less time-consuming, and flawless shipping process by labelling or stencilling words like 'Fragile,' 'Keep Dry', or 'This Side Up' in your precious cargo boxes.
Foam and Paper Lining for Better Protection
Packing boxes are often lined with foam for proper thermal insulation, anti-static protection, vibration, and shock absorption.
Meanwhile, tar paper lining on packing containers effectively prevents corrosion, where some packed items may be shipped alongside chemicals or protected from saltwater.
Our onsite packing Melbourne service includes selecting the best lining solutions to prevent damage and deterioration.
VCI Paper and Foil Lining for Corrosion and Moisture Resistance
Foil and paper lining with VCI (Volatile Corrosion Inhibitors) offer better water, moisture and corrosion resistance. These specialized and high-quality materials come in many forms, like resealable bags for smaller items or rolls and films for bulkier items like industrial machinery. Anti-corrosion sprays can be used to reinforce protection in some items.
Silica Gel
Silica gel works great in safeguarding a wide array of products from moisture-related damage. It is particularly effective at keeping medicines free from dampness, which could otherwise reduce their effectiveness, and preserving the integrity of leather goods that could turn brittle or develop mildew due to excessive moisture.
If you're concerned about when, where, and why to use drying agents, Safe Pack can help carefully pack and line your boxes and crates with the correct materials for optimal storage, transport protection and security.
Steel and Poly Strapping to Secure Your Shipments Better
Proper protection is paramount to keeping your valuable goods safe, fresh, and intact, whether shipping items locally or overseas.
Steel and poly strapping provide the best reinforcements for merchandise shipped on pallets, crates, boxes, and cartons that must be stacked or bundled.
However, proper strapping follows certain principles and requires specific techniques to be effective. Reliable packing services is key to maintaining your goods' appearance and quality despite being in transit for long periods.
Armed with ample knowledge, skills and experience, our packing services staff are always happy to help you with your specific packing and unpacking service needs.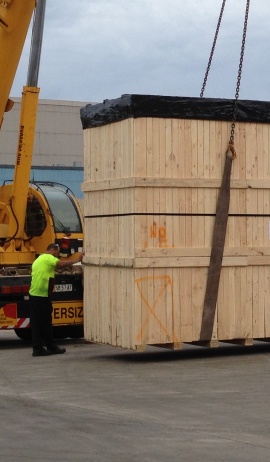 Locks, Fasteners, and Hinges Installation
For reinforced security and to effectively prevent theft, it's best to install locks, fasteners and hinges on your wooden boxes and shipping containers.
We can install these locking mechanisms and fill void spaces inside, inserting robust yet lightweight brackets and fillers to keep your items safe and secure before being loaded, while in transit, and while packing and unpacking.
Customized Packaging Supplies
Safe Pack offers the perfect solution for your business and unique needs. As one of Melbourne and Australia's leading logistics services providers, we provide different types of high-quality materials and packing supplies you couldn't get anywhere else.
These include specialized packing materials like treated bags and foils, plastic wrap, bubble wrap, wooden boxes, crates, and pallets, cardboard or corrugated boxes, and so many others.
We Deliver the Most Efficient Onsite Packaging Services for Excellent Results
At Safe Pack, we want to keep our customers happy by leaving no room for mistakes. We always seek to understand their requirements to find accurate solutions that generate the best results at cost-effective prices.
No shipment or packing service is too big or too difficult for us. Regardless of the weight, size, and quantity, we can provide top-notch onsite packaging options and services that meet all your needs.
Call us at 1300 689 768 for a free measure and quote, or send us a message now to find out how we can provide optimal protection and security for your valuable items.