Recycling export and packing crates: how to get started
March 10, 2023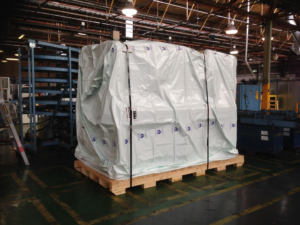 We are facing a global crisis when it comes to waste and the disposal of unused goods. Businesses and consumers alike are becoming increasingly conscious of the waste generated by their companies and households, and are looking for ways they can reuse, recycle or repurpose items to better increase sustainability efforts. This usually means finding ways to prevent these items from ending up in the landfill – which is a challenge in itself.
While consumers are more conscious of the way they can repurpose or recycle larger items – such as furniture – businesses are yet to play catchup in Australia.  One such challenge is the lack of knowledge that companies carry about what they can do with excess exports and packing crates.
For most companies, it's in their best interest to invest in ways to recycle these crates, not only for the sake of the environment but also to better establish themselves as being progressive and socially aware. This is especially true when an increasing number of customers are factoring in a company's ecological stance when making purchasing decisions.
Moving towards a "low waste" model can also mean significant long-term savings for companies. So, let's have a look at some of the ways you can contribute to this effort by reusing and repurposing your inventory of crates.
Getting started
The simplest way to recycle anything is to find a way to use it again, and that's no different for packing crates. The most natural and financially beneficial way to salvage these is to maintain and restore them within a closed loop system so that it can be used again. Some companies offer this service to businesses and will pick up used crates, inspect and assess them for any damage and then repair and refurbish them before returning them for reuse. In the end, this saves businesses money while minimising the amount that enters the landfill.
Along the same lines, export crates can be sold to businesses that recycle the timber and make new, custom-built versions. Consider this: if all companies were to employ a similar system, the same piece of timber could be used dozens of times, instead of opting for new packing crates every time.
Finally, timber packing crates can be utilised for purposes that have absolutely nothing to do with the exporting of goods at all. A quick search of Pinterest yields an array of results including shelving, cabinets, coffee tables and even a packing crate fort for children. Realistically, your imagination only limits the possibilities.
Similarly, if the whole crate isn't going to be used, it can be pulled apart for use in woodworking projects. For some businesses, it's worthwhile checking out local markets for any vendors that may be willing to take on excess crates, allowing them to up-cycle of make use of them efficiently.
It pays to be green
Looking after the environment and moving towards a low-waste society is still paramount for both individuals and companies across Australia. The days for single-use products are limited, and it's critical we consider how we can contribute to the landfill challenges at hand. Changing approaches to export packing crates is one way companies can assist in creating a positive impact, playing a pivotal role in paving the path to a more sustainable future.