Item damaged upon delivery? Follow these steps to ensure you end up getting what you paid for
March 10, 2023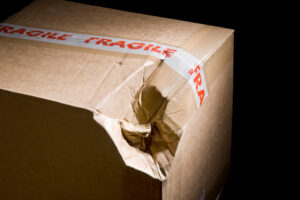 There's nothing worse than looking forward to a parcel being delivered, and seeing that it's definitely ended up in a bit of a mess during transit. It's looking worse-for-wear, and suddenly, the China tea set you ordered is not exactly the beauty you thought it would be. Not to mention, as a customer who has paid hard-earned money (for delivery, too), this is extremely infuriating.
In Australia, there are terms and conditions that cover products that go missing or are damaged during transit. Here's what you need to know:
WHAT IF YOUR ITEM GOES MISSING?
By law, a store or seller is not allowed to accept payment for any goods, if they can't meet the following guidelines:
They don't have enough stock to supply it to the buyer;
They are intending on providing something different to the description of what was ordered;
If they have awareness that they won't be able to provide the ordered goods according to the timeframe originally communicated to the buyer.
If your product doesn't arrive in a timely manner, you actually have the right to raise your concerns. You can do this by communicating with the store/seller through writing, noting that they have failed to supply the product during the specified period they said it would arrive in.
Once the poster has sent out the product, they are still responsible for resolving any challenges with Australia Post or the allocated courier company. This remains the case until the product reaches the door of the customer – you.
WHAT IF YOUR ITEM IS DAMAGED?
If your order lands on your doorstep with obvious signs of damage, then it's likely it won't meet the 'consumer guarantee' that mandates quality. If there is harm apparent on your item, the following will tell you whether it meets the level of quality that it should for this guarantee:
It should be able to perform the purpose it was intended to;
It should be safe and sturdy, with no defects showing;
It should be in good condition and have an acceptable finish.
Depending on just how damaged your goods are, you – as the customer – may be entitled to a full refund, replacement or repairs. If you're not sure what you may be able to claim, head to Consumers Affairs Victoria to see the rights you carry.
Note: Before you return the product, you must contact the store or seller and take a photo for your own personal records. There's also specifics revolving the costs associated with this, so check out this page to ensure you're being charged appropriately.
Above all, if you're not sure how to minimise the potential of your products being damaged in transit, it always pays to take extra precautions. Suppliers that utilise proper packaging and quality-assurance can eliminate the unnecessary disappointment and hassle of receiving a fault order (or the potential for it to go missing).