Here's why you should use wooden shipping crates to move your goods
March 9, 2023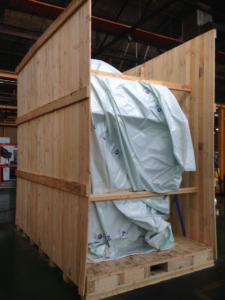 Timber packing cases have been used for centuries to ship goods all over the world, and there are many reasons why the old ways are still the best ways. When compared with other options, wooden packaging gives you more flexibility in terms of size and affordability. They can withstand more weight when you stack them, so your precious items are more secure for longer.
And that's important for businesses and individuals alike because choosing the right packaging can make all the difference when you're looking for shipping efficiencies and safety. You can order custom timber crates to fit your products perfectly – a great way to pack heavy objects or machinery. Wooden packaging is often used for importing and exporting food items because they're hygienic, offer better ventilation and help to pre-cool foods.
If it's vital your materials reach their destination in one piece, timber packing crates are the way to go. They have sturdier walls, too, which means they will be easier to move, stack, harder to break into and offer a superior level of protection, every time. They're naturally able to withstand even the harshest transportation challenges – wood is naturally resistant to all kinds of weather conditions (including seawater), keeping your goods safe and dry. Wood is also unlikely to conduct heat like steel crates – a problem if you have temperature sensitive goods to ship.
It's easy to customise a wooden crate to your exact needs, and doing so will decrease your shipping investment costs at the manufacturing stage because their simple, straightforward design can be easily made locally. This is a great boon for those who have large shipments.
When compared to plastic packaging, the custom timber cases we make in Melbourne have the higher strength needed for difficult loads and the rigidity required to stop crushing of delicate goods. They're also great if you need to warehouse your goods long-term as the natural material keeps out water, air and other conditions that might degrade your products.
Plastic crates usually cost more and will generally need to be imported. Their hard surfaces don't cushion products during transport, which could leave your products damaged.  There's also the problem of releasing toxic chemicals such as polyethene or polypropylene into the environment.
Wooden crates are also an environmentally friendly choice when it comes to shipping. They can be made from sustainable and renewable raw materials that are CO2 neutral and can be easily broken down naturally. If they do need to be heat treated, you can specify a completely chemical-free process that doesn't expose workers, your goods or the earth to toxic elements.
Timber crates are reasonably priced when compared to other materials. With the raw materials being so much cheaper compared to synthetic options, wooden crates are a sensible option for the budget conscious company but they wont lack in quality, the ability to securely ship your goods or any customization options.
Wood is also long-lasting, which means it will resist breakage and can be used again and again. If it does break, it can be easily repaired on the spot using conventional materials.
Timber crates and cases are typically used to safely transport:
Lightweight items
Breakable products
Heavy machinery
Awkwardly shaped goods
Food items
Food jars and crockery
Wine bottles
If you're looking for high quality, custom packing crates locally made in Melbourne, give us a call today.