5 Reasons You Might Need Onsite Packing Services
July 25, 2023
Shipping huge fragile items starts with putting them in suitable crates and packing them for transport. Any slight mistake in this process could damage the machinery or other products in the shipment during transit. 
Hiring professional onsite industrial crating and packing services reduces the risk of such incidents. It also guarantees proper handling of your machines and ensures they reach their destination safely. 
This article will explore the importance of onsite packaging in Melbourne and instances where it becomes the ideal choice. 
What is onsite packing?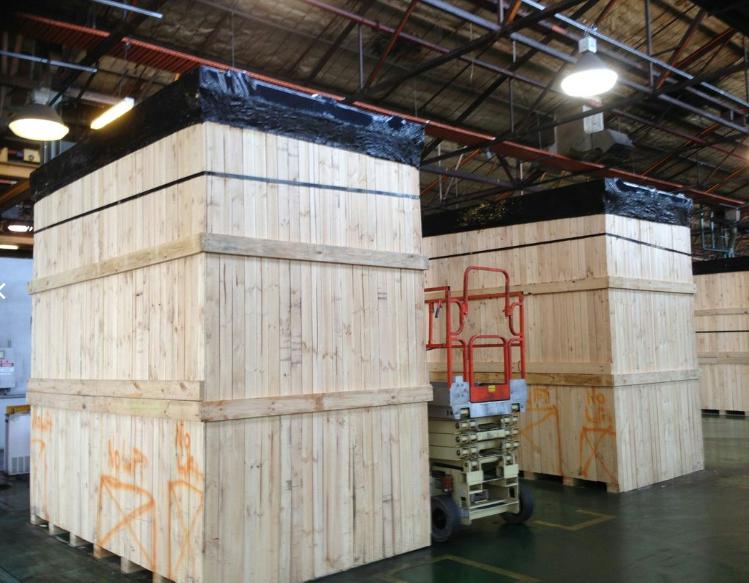 This phrase refers to the specialised service of packaging and preparing items for shipment directly at their location. It involves a team of experienced packing professionals bringing expert services to your premises. 
You won't need to move your equipment to an offsite facility for this process, ensuring efficient and secure packaging solutions. This approach is particularly beneficial for delicate, large, or unwieldy items that are challenging to transport to a separate packing area. 
Why would you need onsite packing? 
Onsite packing offers many distinct benefits when dealing with hi-tech, delicate, or oversized items. But why would you need this service rather than its offsite counterpart? Let's explore key situations where onsite packing becomes the ideal choice: 
Size and weight considerations of the machinery

Heavy machinery can pose significant challenges during transportation. The size and weight of such machinery make it difficult to move them to a different crating and packaging location. They also need specialised equipment and packing materials.

 

Onsite packing professionals have the necessary tools and expertise to efficiently handle large and heavy machinery. They can design and implement custom solutions that ensure safe transport, minimising the risk of damage caused by improper handling or inadequate packaging.

 
Fragility of the equipmentIf you have fragile equipment, then onsite packing is your best option. These items require top-notch care, and experienced professionals excel in addressing this issue of fragility.They understand the intricacies and vulnerabilities of delicate equipment during shipping.Onsite packaging companies employ specialised packing techniques, using appropriate cushioning and bracing. They select the right protective materials to safeguard fragile components and ensure the machinery arrives with no issues.

 
Complexity of the machines

Some machinery is highly complex and may require disassembly for transport. Disassembling and reassembling such equipment can be daunting without the proper tools and expertise.

Fortunately, onsite packing professionals possess the skill to do the job efficiently. They can dismantle and reassemble your equipment using proper techniques and tools, ensuring each component is safely secured for transportation. 
Compliance with regulatory requirements

The law demands that you adhere to certain regulations when transporting some machinery. If your equipment falls under this category, then onsite packing might be ideal for you.

Professionals specialising in this area understand all relevant regulations. They're also up to date on the latest transport standards. Therefore, working with them will ensure that you comply with necessary measures such as permits, weight restrictions, and safety protocols.
Minimisation of liability risks

Despite proper shipment preparation, accidents can still happen while your goods are in transit. Unfortunately, the financial liability that comes with such damages is significant. You may be responsible for repairs or replacements, which can cost you thousands of dollars.

Employing skilled onsite packing professionals can help minimise this risk. Their experience in the field will come in handy when securing delicate machinery parts. This mitigates the potential liability associated with any unforeseen accidents or mishandling.

Another benefit is that you have greater control over the packaging process when done on site. As such, you can ensure that your equipment is packaged to meet the specific requirements of the shipping method used. Also, it's easier to ascertain that all necessary documentation is completed accurately, reducing any liabilities related to customs or other regulatory requirements. 
How to choose the right onsite packing service provider 
Here are the main factors you should consider when looking for a reliable company: 
Experience:

Look for a provider with experience in packing and shipping items similar to yours. This can help ensure that they know the best methods and materials to use to protect your equipment during transport.

 

Reputation:

Check reviews and references to ensure that the provider has a good reputation for quality and reliability.

 

Customisation:

Look for professionals who can customise their packing methods to meet your specific needs and requirements.

 

Insurance:

Make sure they have appropriate insurance coverage to protect your items in case of loss or damage during shipping.

 

Cost:

Compare pricing from different providers to ensure that you are getting a fair price for the services provided.

 
Customer service:

Choose one that's responsive, easy to work with, and can communicate clearly throughout the packing and shipping process.

 
While onsite packing services are essential, their benefits are as good as the provider's competence. Therefore, make sure you do your due diligence before hiring one. 
Conclusion 
Onsite packing comes in handy when you want to transport heavy or fragile machinery. The complexity of your equipment may also require the services of experienced professionals. Additionally, it's a great way of ensuring regulatory compliance and reducing liability.