The importance of securely shipping your goods
March 10, 2023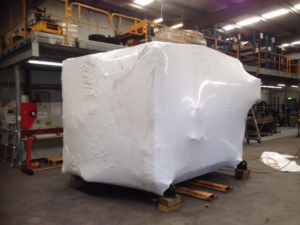 Securely shipping your cargo is of utmost importance – no business can afford to lose expensive products to transit damage.
But did you know that one of the most secure ways to keep a broad range of items safe is to insist on using wooden packing crates?
Eight reasons why choosing timber for your international shipping crates make great sense.  
1. They're easier to stack. Timber crates can withstand enormous pressures when they're packed well, which means you can fit more of your essential goods into your warehouse, storage container or cargo hold.
2. They last longer. There's a reason why wooden crates have been used for thousands of years – they're incredibly durable and long lasting. Their robust build can protect commodities inside for years. You'll save money by being able to reuse your crates again and again, as well as keeping the environment free from toxic plastics or manufacturing processes.
3. They keep your goods safer. Durability means your assets are super protected during their voyage. The wood maintains a strong barrier against whatever the world throws at your cargo beyond the box. You get added peace of mind knowing your items will arrive clean, intact and unscathed.
4. They're a cheaper option. Timber crates cost less to make because they use simple, natural materials that are generally unprocessed.
5. Easy to recycle. If a packing crate becomes damaged or broken, it's straightforward to break it down and rebuild it or add materials from other containers. Wooden packing grates are the most ecologically sound option for transporting retail goods.
6. Totally customisable. Got a particular order with unusual proportions you need to transport either domestically or internationally? No problem! Standard wooden crates are 1.2 metres wide, 2.4 metres long and 1.2 metres high, but you can get a wooden box customised to suit your specific product needs quickly and easily. They can also be "jigged" inside to create partitions that house multiple products or product parts – whatever your business requires.
7. Easy to handle. Timber packing crates are simpler to manoeuvre when using a forklift or pallet jack, which means your warehouse and freight staff can do their job more efficiently. It's also easier to move a wooden crate from a truck to a storage facility, and with their sturdy design, you won't have to worry about mishaps happening to your goods during relocation.
8. Freight companies prefer them. Whether you're sending your cargo via road, air or ship, you'll find most transport companies will prefer wooden crates because they are:
Easily moved without the need for specialised equipment
Reliable stability, making them less likely to shift or break during transport
They offer enhanced protection for goods, which means the company will be less liable for products damaged in transit.
What can you ship in wooden packing crates?
Really, the sky's the limit when it comes to packing wooden crates for freight journeys.  Here's a list of the most commonly transported goods that travel better in timber:
Heavy items
Wine
Heavy machinery
Delicate and fragile items
Produce
Ecological products
Furniture
Awkwardly shaped objects.