Got a suspicious package with no address? Follow these steps to ensure the safety of yourself and others.
March 10, 2023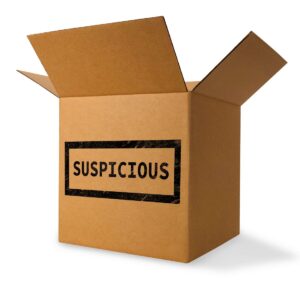 Millions of packages are shipped nationally and internationally every day with a wide variety of mail couriers whipping across the globe by road, sea and air to get them to their intended destinations.
First up, packages of a suspicious nature – whether they constitute a real, potential threat or a hoax – are generally pretty rare. The risk of you receiving one in the mail is low.
However, the incredibly high volume of mail processed daily often makes it extra difficult for carriers to recognise and weed out suspicious packages. Often customs officials will pick up any obviously intentional problems prior to delivery, but no system is utterly foolproof – so it pays to know what you're looking for, just in case.
So how do you know whether your latest mail drop contains a suspicious package? Here's how you can familiarise yourself with the signs that all might not be well with your delivery:
You should always approach packages with caution if they seem suspicious. Unfortunately, there is no one-size-fits-all protocol when it comes to identifying something's not quite right. Nevertheless, if you have any doubts, your first step is to notify the authorities.
What does a suspicious letter or package look like?
Let's say you're expecting a package in the mail, like a brand-new pair of shoes you got for a bargain online or your workplace stationary order.
You'll have a preconceived idea of what the package should look like when it arrives. Anything that doesn't conform to your preconceptions, that seems just that little out of the ordinary, should be treated with wariness.
Some common signs that something's not quite right include:
Any visible protruding wires, foil, or an unknown substance on the outside of the mail
Audible ticking or other sounds coming from inside the package
No return address or a return address that seems made up
Misspelt names or addresses
A suspicious or threatening message on the outside of the package
A package secured with an excessive amount of tape
A messily wrapped package
A lopsided or uneven package or letter.
Although it's a rare occurrence, if a suspicious package is delivered to your home or workplace, it's important to practice vigilance and be aware of what steps you should take next.
Once you've determined the package is suspicious, here's what you should do:
Call your local police station immediately and explain what you've found. They can give you step by step advice on what you should do next to keep yourself safe
Isolate the item from friends, family, colleagues and/ or pets
Don't open, move or touch the package
Don't discard it – you don't want an unsuspecting someone else to find it and be hurt
If you've touched the package wash your hands thoroughly
Don't sit by the package – leave it in a different room or area to where you are waiting for assistance
Don't panic!
It's vital you stay safe when dealing with any package you think might be suspicious – even if you think it's likely a hoax. You can never be too dramatic when it comes to safety.