5 great uses for old packing crates
March 10, 2023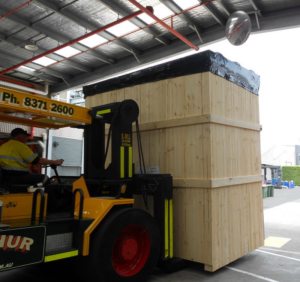 Have you recently moved and now find yourself with an abundance of packing crates? Or maybe your work keeps throwing them out, and you can't bear to part with the wood? Whatever the reason, there are plenty of ways to reuse old timber crates.
So, whether you're on the hunt for a custom wooden headboard, some cool artwork or simply some storage ideas, some versatile wooden packing crates could be the perfect answer for you.
Having personally used reclaimed wood for a few projects of my own, I can attest to the cool, vintage vibe they so effortlessly give off.
Top tip – before getting started on the following projects, just make sure you've sanded and cleaned your crates – you don't want to spend your time pulling splinters from your hands.
          1. Storage
For years I used to keep all of my vinyl records stacked in an old wooden crate – and let me just say, it looked pretty cool. But aside from records, wooden crates are the perfect way to add some simple storage to your space – whether next to your couch or under your bed.
Next to your couch, a wooden crate can add some cool, eclectic flare holding blankets, extra cushions or magazines. In the kitchen, a wooden crate provides some chic, vintage vibes when flipped on its side and holding some wine.
          2. Indoor Garden
Bring literal life to your space by adding some greenery in your old crate. The wood of the crate is perfectly suited to holding potted plants and creates a gorgeously earthy aesthetic in your home.
This tends to work best with slightly small crates, resting atop both coffee tables and dining tables. Plus, this is complexly customisable – add your favourite flowers, your favourite herbs or some succulents to make this truly suit your style and space.
          4. Artwork
Back before canvases were a thing, many artists used wood to showcase their paintings. By removing the side of your crate and leaving the base, you can create the perfect wooden canvas to showcase some art.
This art could be as simple as staining the wood in different colours to add some visual interest to your walls. Or, could be as complex as creating an entire set of abstract art pieces. The choice is up to you, and can easily be made to fit within the colour scheme and style of your home. With this one, you are truly only limited by your own creativity.
          5. DIY Headboard
Creating a DIY headboard sounds intimidating, but can actually be pretty simple to make. Just look up a template from Google and pull apart your crates for the wood- careful to keep the wood in the best condition possible. Not only is this a lot more cost effective than buying a custom wood headboard, but you will have such a sense of pride every time you look at it.
          6. Coffee table
If you have some larger crates lying around you can easily create a standout coffee table. Simply stain or paint the wood to a colour of your choosing, add some floor protection stickers to the base and set the crate base side up.
Alternatively, you can also get a piece of custom cut glass to create a glass-topped coffee table. The glass-topped version also doubles as the perfect place to store books and blankets.